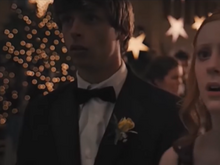 Brian Maxwell was the boyfriend of Heather Shyres. He is the equivalence of Don Farnham/Roy Evarts. He attended the Prom and helps Chris's friends to cheat with the ballot. Heather tells him to leave the prom when she notices Carrie's blood lifting, but he didn´t take her warning seriously enough to leave the Prom, when Carrie was gathering her strength. During Carrie's rampage, Carrie uses her powers to smash Brian in between the bleachers.
Ad blocker interference detected!
Wikia is a free-to-use site that makes money from advertising. We have a modified experience for viewers using ad blockers

Wikia is not accessible if you've made further modifications. Remove the custom ad blocker rule(s) and the page will load as expected.