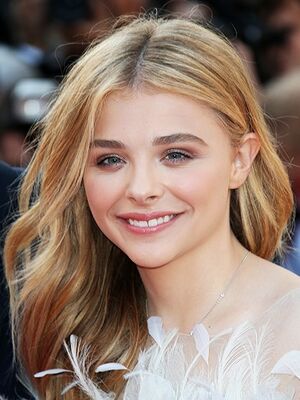 Chloë Grace Moretz
is an American actress. She began her career at age 7 and appeared in
the 2013 remake of Carrie
. She played
Carietta N. White
, an outcast who gets bullied everyday, but gets pushed too far one more time. She also appeared in Dark Shadows, Hugo, Kick-Ass and Diary of a Wimpy Kid. She has appeared in lots of remakes/adaptions. She also has upcoming movies in 2014! Her height is 5'5. She has been nominated/given awards from 2006-2013.
Earlier Life (Born)
Edit
Chloe was born in Atlanta, Georgia on February 10, 1997. She has a mother who is a nurse. A brother who is her acting coach, named Trevor, and a father who is a plastic surgeon. Her brother got accepted to "Professional Performing Arts School." Chloe would always help her brother read lines from the script. After realizing that she loved it, her family decided to attend some auditions to see if she can apply her skills.
Personal Life (Love for fashion)
Edit
Chloe always had a passion for fashion. She always caught the eye of beautiful dresses in magazines! She has been in several photo shoots. She has even been on "Elle magazine!" She has been invited to a variety of hatue couture. In 2012, Chloe became the face of the Youth Clothing Company, appearing at events and reports! She was awarded "The Next Future Icon Reward."