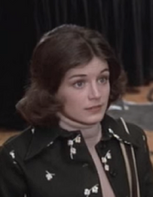 Deirdre Michelle Berthrong (September 25, 1952 - June 12, 2017) was an actress. Deirdre is better known for Carrie, co-starring in James at 15, and she is the co-producer in the 1993 TV Movie: Born Too Soon. She makes an appearance in an episode from The Hardy Boys/Nancy Drew Mysteries (Episode: The Flickering Torch Mystery)
She died on June 12, 2017 after battling pneumonia for several years.
She plays Rhonda
Ad blocker interference detected!
Wikia is a free-to-use site that makes money from advertising. We have a modified experience for viewers using ad blockers

Wikia is not accessible if you've made further modifications. Remove the custom ad blocker rule(s) and the page will load as expected.