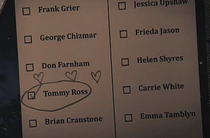 Frieda Jason is a minor unseen character in Carrie (2013). She is nominated prom queen but loses to Carrie White. This is actually the result of Tina Blake, under the control of Chris Hargensen. 
The actual role of Frieda is given to Erika
Ad blocker interference detected!
Wikia is a free-to-use site that makes money from advertising. We have a modified experience for viewers using ad blockers

Wikia is not accessible if you've made further modifications. Remove the custom ad blocker rule(s) and the page will load as expected.