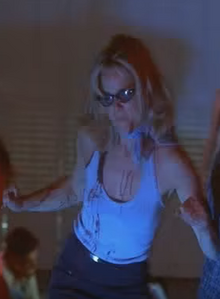 The Girl with Sunglasses is an extremely minor character in The Rage: Carrie 2.
She is probably portrayed by Tiffany LeShai McMinn
She was present in Mark Bing's party house. During the massacre, she tried to run away from the house, But she is pushed by Brad.
She manages to escape from the burning house and she is last seen helping a boy (Tyler) to get up.
Brad, You bastard!
TYLER! TYLER, GET UP!
Ad blocker interference detected!
Wikia is a free-to-use site that makes money from advertising. We have a modified experience for viewers using ad blockers

Wikia is not accessible if you've made further modifications. Remove the custom ad blocker rule(s) and the page will load as expected.