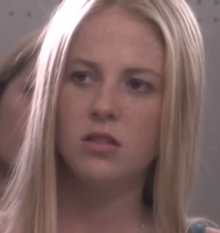 Helen Shyres is a character from "Carrie (2002)". She is portrayed by Chelan Simmons.
Character Bio
Edit
Helen is first seen playing baseball with Carrie White and the Ultras. When Carrie misses the ball, she asks Sue, "Do you think she's retarded?" She also takes in place in the locker room incident in which she & the other girls taunt Carrie after she gets her first menstrual period. She and the other girls end up getting punished for their actions.
When Helen talks with Sue about the prom while they decorate (and a rumor about Sue and Carrie being lesbos), she also agreed with Sue in the end, that what they did was wrong.
During the prom, Helen is shown with her boyfriend, Roy and compliments Carrie, like Frieda did in the 1976 version and makes odd jokes.
Helen notices Tina Blake and her boyfriend Kenny Garson are looking at the bucket of pigs' blood ready for the blood to fall on Carrie & is shocked to see Carrie get covered in pigs blood and how Kenny & Tina were laughing.
Helen slaps Kenny and runs up on stage to help out Tommy Ross, who is killed by a heavy falling bucket. She tries to snap Carrie out of her trance, but Miss Desjarden pushes her out of the way. She is seen saying, "He isn't breathing" while touching Tommy's vain.
Helen is then seen helping Roy pick up Tommy. Both she and Roy died in the Black Prom.
Later in the film Detective John Mulchaey mentions Helen's name while interviewing Miss Desjarden about the incident by saying, "You and Helen Shyres both witnessed Carrie White in some sort of trance."
In the first part of the film she fills the role of herself. In the Prom Scene she fills the role of Frieda Jason and Sue Snell.
Her name was seen on the ballot, and Chris told Tina that "Roy and Helen...No way!"