Miss Collins
was played by Betty Buckley.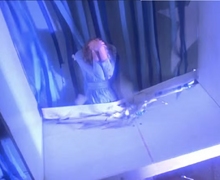 Miss Collins is the gym teacher of the Bates High School. She represents the Miss Desjardin of the novel, though she is nobler here. When Carrie has her period and the girls attack her instead of helping her, she first makes Sue aware of what she is doing, tends to Carrie, drives the girls out and punishes the girls of her class, for what they did to her by giving them a week´s detention, but only because the adminstration wanted it that way. Still she manages to convince the adminstration to give her the power to decide, what punishment the girls will have and threaten them to suspend them and bar them from the prom, if they do not submit to it. She makes sure,that Chris Hargensen is barred from the Prom, when she doesn´t submit. During the prom she wants to make sure that Carrie has a magical evening by throwing Sue out of the Prom thinking she is up to something, but it fails horribly because of the evil actions of Chris and the evil reaction of the majority of the crowd and Carrie gets insane.
When Carrie is covered up in the blood, Miss Collins starts crying for her; however because Carrie is hallucinating, she is imagined that she was laughing instead. During the rage, Miss Collins along with George, The Beak, Ernest, Cora, and Rhonda tend to an unconscious Tommy. As the group carries Tommy while trying to escape, Carrie separates the group apart from Miss Collins as Carrie pins Miss Collins to the walls.
She is later killed at the Black Prom by an insane Carrie, who slices her in half with a basketball board width her telekinesis.
Ad blocker interference detected!
Wikia is a free-to-use site that makes money from advertising. We have a modified experience for viewers using ad blockers

Wikia is not accessible if you've made further modifications. Remove the custom ad blocker rule(s) and the page will load as expected.