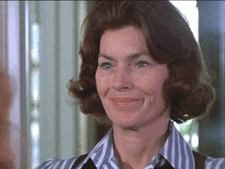 Mrs. Snell
was a character in
Carrie (1976)
. She is played by Priscilla Pointer
She is a goodhearted woman, who loves her children and likes to watch TV. She had contact with Margaret White, who makes propaganda of her beliefs, but only from a distance to get rid of her. Still she apoligises for the bad behaviour of her daughter. She takes care of her daughter, especially after The Black Prom and goes with her away from town after the disaster for Sue´s sake, so that she may recover. In the last scene she begins to realise how harmed Sue has really become because of these events through her screams, when she wakes up from a nightmare regarding Carrie White.
She is played by Priscilla Pointer, the mother of Amy Irving (Sue Snell)

Mrs. Snell appears in a flashback in the sequel
Ad blocker interference detected!
Wikia is a free-to-use site that makes money from advertising. We have a modified experience for viewers using ad blockers

Wikia is not accessible if you've made further modifications. Remove the custom ad blocker rule(s) and the page will load as expected.