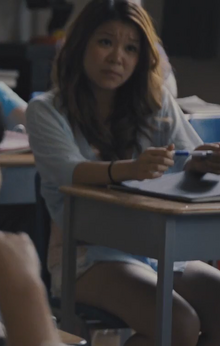 Myra Crewes is a minor character in Carrie (2013). She is portrayed by Annie Chen
She is one of the many bullies of Carrie White, because she giggled at her in English class, along with Tina Blake. She is seen several times, while Tina laughs, and smiling when Carrie is reading her poem. Not much is known about her, but she was seen at the Prom cheering for one of the students on the dance floor and dancing with her date and in the trailer in an alternate scene of her running with the crowd to the doors.
It is unknown if she survived The Black Prom.
She is seen running towards the door ONLY in the alternate prom angle of the crowd running towards the exit. 
She may have survived, being so close to the doors, but it is unconfirmed.
It is proven, she is a member of The Mortimer Snerds because of her being one of Tina's friends. 
Myra had no lines in the film, but she was giggling many times, which was what Kimberly Pierce probably wanted.
According to IMDb she is known as Student Dancer #7.
Myra and was nominated Queen, But lost to Carrie.