"
Ross, I think somebody wants you to help her to see God. You know, God? Oh, yeah. Oh, yeah, God. Oh, God. Oh, God. Oh, yeah. Oh, God. You ass!
"

— The Obnoxious Student bothering Carrie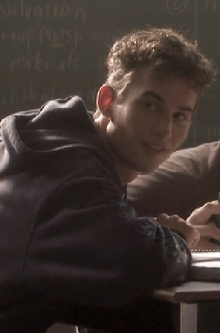 This Unnamed Student (Credited as Obnoxious Student) is a minor character in Carrie (2002). He is portrayed by Cascy Beddow.
He is seen along with his friends in the library bullying Carrie. Until Tommy throws him a book on the face, Bleeding his nose. His friends began to laugh at him while his nose continued to bleed. It is unknown whether he died in the massacre or he was one of the 11 survivors. But very likely he died in the black prom.
Ad blocker interference detected!
Wikia is a free-to-use site that makes money from advertising. We have a modified experience for viewers using ad blockers

Wikia is not accessible if you've made further modifications. Remove the custom ad blocker rule(s) and the page will load as expected.