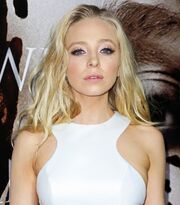 Portia Doubleday (born Portia Ann Doubleday on June 22, 1988 in Los Angeles, California) is an actress known for her role as Chris Hargensen in the 2013 remake of "Carrie."
She has starred in the movies "Youth in Revolt," "18," "In Between Days," "Almost Kings" and "Big Mommas: Like Father, Like Son." She also appeared on the short-lived 2011 ABC Network series "Mr. Sunshine."
Portia is the daughter of Christina Hart & Frank Doubleday. Her sister is actress Kaitlin Doubleday.
Ad blocker interference detected!
Wikia is a free-to-use site that makes money from advertising. We have a modified experience for viewers using ad blockers

Wikia is not accessible if you've made further modifications. Remove the custom ad blocker rule(s) and the page will load as expected.