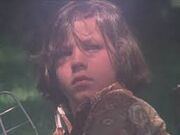 Tommy Erbter
was played by Cameron de Palma in
Carrie
.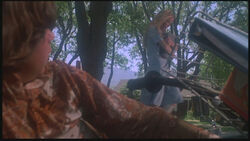 He was a resident of Chamberlain, Maine. He was 5 years old and a bully. He verbally abused Carrie on her way home, while he was riding on his bicycle. She retaliated by unknowingly throwing his bicycle to the ground. He did hurt himself, when it happened and he was scared of her after that.
It was at this moment, when Carrie began to realise, she had a special power. 
He is played by Brian De Palma's nephew.
The Creepy Carrie, Creepy Carrie quote was voiced by Betty Buckley (Miss Collins).
However, in the theatrical trailer, he says Praying Carrie, Praying Carrie, even with Cameron's voice.